The park is open every day from 10AM to 7 PM . Last departure at 4.30PM

For any question or booking, please contact us : rennes@foretadrenaline.com
2022 Calendar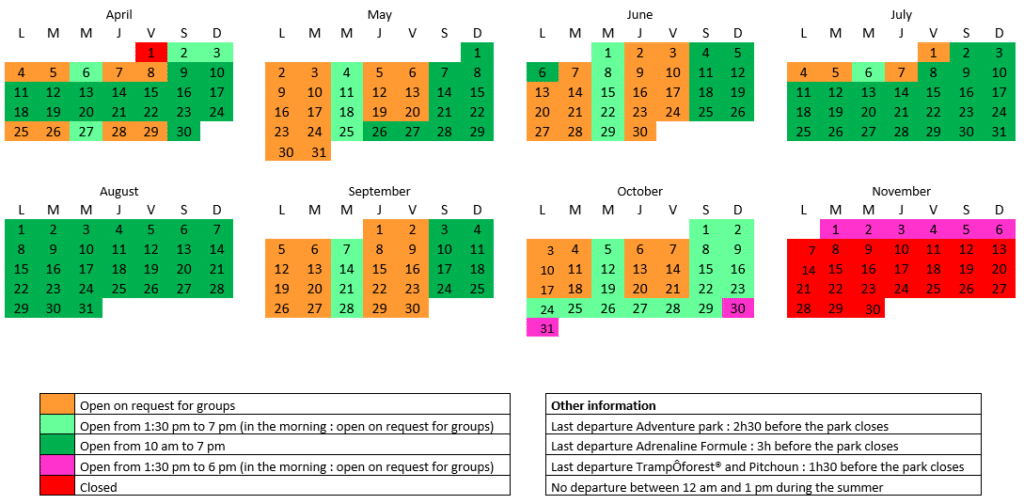 From Easter to All Saints (excluding french school holidays)
Foret Adrenaline Rennes is open on Wednesdays from 1:30 PM to 7 PM,
During the week ends and bank holidays from 10 AM to 7 PM

Exception in October: saturdays, sundays and bank holidays from 1:30PM to 7PM
During Easter holidays (zone B french holidays)
Foret Adrenaline is open every day from 10 AM to 7 PM.
During All saints holidays (zone B french holidays)
Foret Adrenaline is open everyday from 1:30 PM to 7 PM until October 29th
From Octobre 30th, the park is open from 1.30PM to 6PM
During the summer holidays
Foret Adrenaline Rennes is open every day from Friday, July 8th, to Wednesday, August 31th, from 10:00 AM to 7PM.
Exceptions
Forêt Adrénaline Rennes reserves the right to modify at any time the opening hours of the park (weather condition, high attendance …). In case of exceptional closure the information is relayed on our social networks, website and on the booking module. We call each client who booked to inform them.
In case of high attendance, we can open additonal departures at the end of the day
Attendance Peaks

All the departures are full ? Do not forget our park Corsaire Aventure in Saint Malo!
45 minuts away from Rennes, close to the beach, enjoy 2.30 hours of adventure!