Due to the health context, please read the recommendations and obligations to practice the activity safely.
Booking is RECOMMANDED
Booking is highly recommended. The number of people per departure is very limited, reception without reservation is not guaranteed the same day.
Opening time
2021 Calendar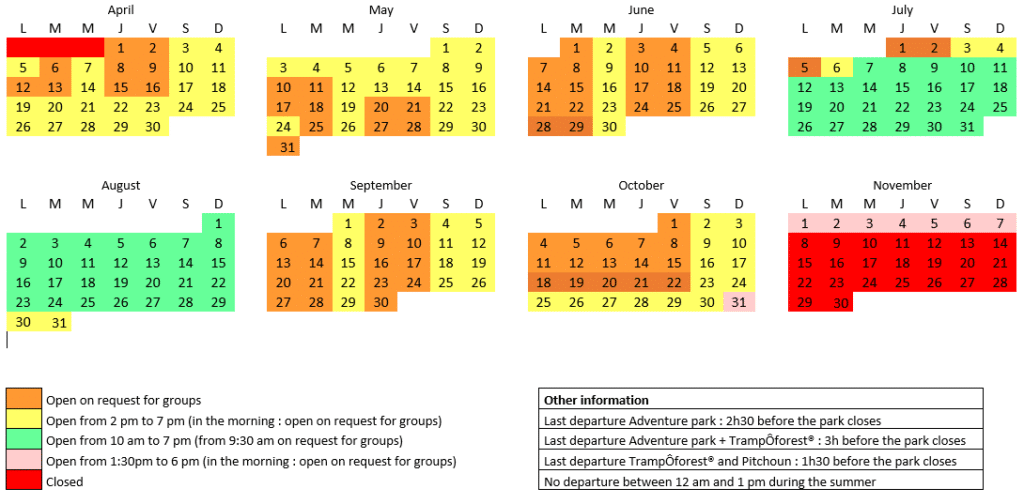 Opening times and days may be changed due to the current health environment
To know the departure times, book online
From Easter to All Saints (excluding french school holidays)
Forêt Adrénaline Carnac is open Wednesdays, weekends and holidays, from 2:00pm to 7:00pm
Exception : from september, the 30th to october the 22th, the park will be open only the weekend from 2:00pm to 7:00pm , may 16th
During Easter holidays and All Saints holidays
Forêt Adrénaline is open everyday (Zone B and C french holidays) in the afternoon from 2:00 pm to 7:00 pm.
Exception : from october the 31th to november the 7th, the park will be open from 1:30pm to 6:00pm
During the summer holidays (July and August)
Forêt Adrénaline Carnac is open the afternoon on june the 6th then every day and all day, from Wednesday, July 7th, to Sunday, August 29th, from 10:00 am to 7:00 pm. The park is also open from auguste the 30 to august the 31 the afternoon.
Exceptions
Forêt Adrénaline Carnac reserves the right to modify at any time the opening hours of the park (weather condition, high attendance …). In case of exceptional closure the information is relayed on our social networks, website and on the booking module. We call each client who booked to inform them.
In case of high attendance, we can open additonal departures at the end of the day