Where to find us? In a perfect place between earth and water!
Located a few minutes from the beaches nearby and in between bike trails, our park is on the road called "route du Hahon" which is between Ploemel and Erdeven, just a few kilometres away from the famous town of Carnac.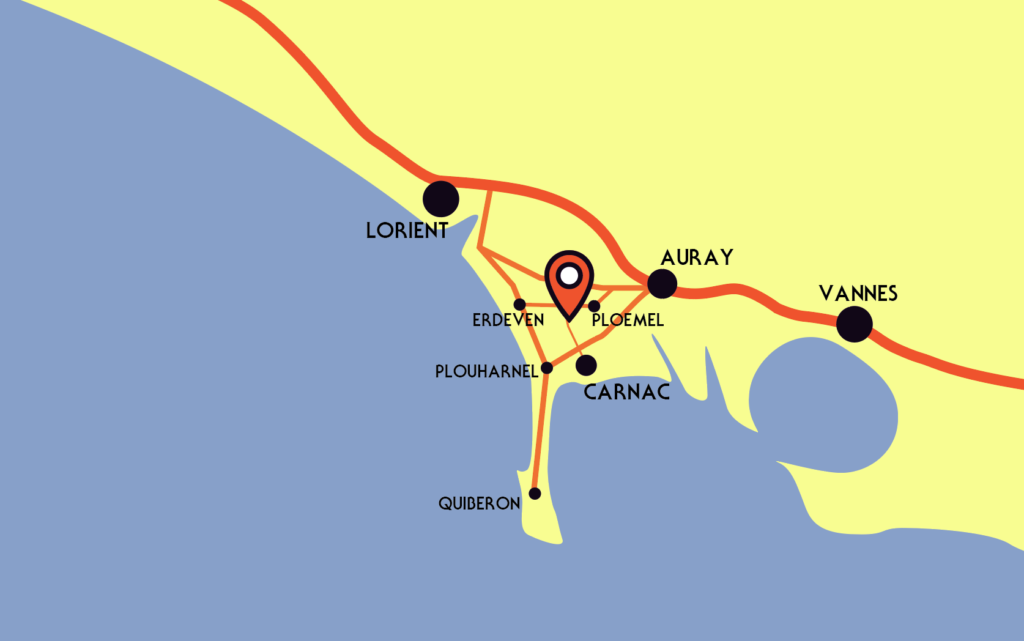 Adresse : Forêt Adrénaline, Route du Hahon, 56340 CARNAC
Coordonnées GPS: Lat. : 47.64, Long. : -3.09
Find us !
Our park is located in the middle of a luscious forest, a path brings you from the parking lot to the check-in counter. Accessible by foot, bicycle,… If you come to accompany others but don't wish to take part in the activities you will still enjoy the park which has plenty of trails to walk through as you watch others in the tree tops. There is also a large terrace with chairs and tables in which to relax, have a break or a picnic.

There are many ways to access our park: By bicycle, by car, by public transit such as by train, the nearest stop is Ploemel.

*Closest towns:
Ploemel: 1 minute drive
Erdeven: 2 minute drive
Auray: 10 minute drive

Coming from:
– Lorient (30 minute drive) or Vannes (20 minute drive) : Take the Carnac/Quiberon exit (RN 165), follow the direction towards Ploemel then follow direction towards Erdeven, the park is before Erdeven
– Carnac (7 minute drive) : follow directions towards Ploemel, after the round-about go straight (garage "le Bodic" will be visible on your left)
– Erdeven (2 minute drive) : follow directions towards Ploemel, after about 1 km turn right.
The treasures of Morbihan
Are your vacations up ahead? Looking forward to a weekend break? Or simple a day to decompress? Come and discover the horizons and treasures of Morbihan! Give yourself some fun, pleasure and adventure by visiting our park "Forêt Adrénaline" in Carnac. Stop and visit us when you come and visit the wild coastal cliff of Quiberon or after visiting our famous megalithic sites learning all about Brittany history. Brittany, rich in it's cultural language, it's picturesque villages, it's chapels and castles but also it's mysterious forests and many islands of the majestic Gulf of Morbihan.