The Forêt Adrénaline Carnac adventure park, an ideal place between land and sea!
You can find us a few minutes from the beaches of Carnac and coastal paths. Forêt Adrénaline Carnac is located on Route du Hahon, between Ploemel and Erdeven, and a few kilometers from the center of Carnac.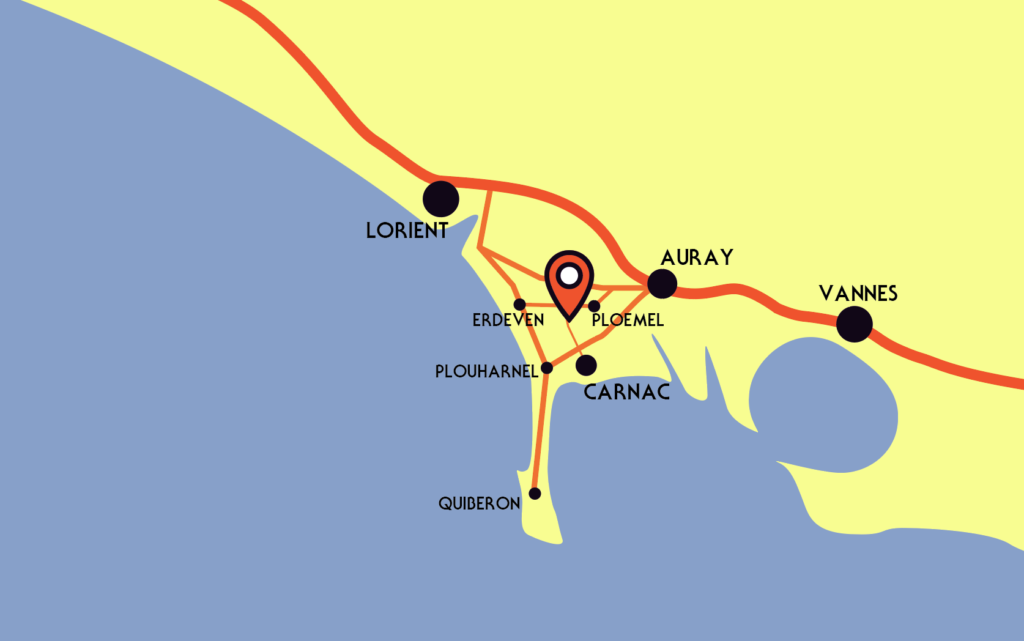 Address : Forêt Adrénaline Carnac, Route du Hahon, 56340 CARNAC
GPS coordinates: Lat. : 47.64, Long. : -3.09
Find us!
Our park is located in the middle of a lush forest, a path brings you from the parking lot to the reception. Accessible by foot, bicycle, … If you come to accompany others but don't wish to take part in the activities, you will still enjoy the park which has plenty of trails to walk through as you watch others in the tree tops. There is also a large terrace, with chairs and tables, to relax, have a break or a picnic.
Several possibilities are available to you to come to the park:
By bike, by car, by public transport or by train stopping at Ploemel. A large car park at the entrance of the forest will allow you to park during the activity.
Closest towns:
Ploemel: 1 minute drive
Erdeven: 2 minute drive
Auray: 10 minute drive
Carnac center: 10 minute drive
Coming from :
Lorient (30 min) or Vannes (20 min): Take the Carnac/Quiberon exit on the RN 165, follow the direction of Ploemel, then Erdeven
Carnac center (10 min): Take the direction of Ploemel then, at the roundabout, straight ahead (Le Bodic garage visible on your left)
Remember to leave a few minutes early so as not to miss the start!
The treasures of Morbihan
Holidays in perspective? Need a weekend break? or even a day to relax? Come and discover the treasures of Morbihan!
After visiting our magnificent wild coasts in Quiberon, a walk around the menhirs and dolmens or a visit of the megaliths that immerse you into the history of Brittany, Indulge yourself and combine business with pleasure, by giving yourself some time to relax at the Forêt Adrénaline Carnac park!
Brittany, culturally rich by its language, its picturesque villages, its chapels and castles but also its mysterious forests and multiple islands of the Gulf of Morbihan.