FAQ : Frequently Asked Questions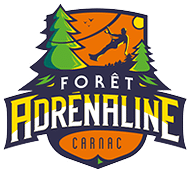 What are the other parks?
Founded in Brittany, Forêt Adrénaline was created in 2004 with a first amusement park in Carnac, in Morbihan, then in Rennes, in the Gayeulles park. And finally in 2018, a third one in Saint-Père named "Corsaire Aventure" for its proximity to the city of Saint-Malo, capital of the privateers and old ships.
There are therefore 3 parks.
---
Are reservations needed?
If booked online, no payment is required, discounts are available on certain departures and equipment is provided on arrival. Feel free to contact us at 02 90 84 00 20 (Carnac), 07 81 40 78 11 (Saint-Père), 06 31 05 57 80 (Rennes).
I WANT TO BOOK:
---
Which means of payment are accepted?

---
How does the loyalty card work?
After 100€ of purchase get 20% discount on your next visit! It is free and you can pick it up at the reception.
---
Are their any age limits?
There are courses for different ages starting at 2 years old.
---
What are the parking options? Is there a charge for parking?
There is free parking at the entrance to the park and bicycle parking just before reception. Disabled and camper places are also reserved for you.
---
How much time do I expect to spend on site?
Remember to come 15 minutes before the time you want for the equipment and advice before going on the courses. Choice of package:
Adventure Park: 2h30min
Adventure Park + TrampÔforest®: 2h30min + 30min to 1h
TrampÔforest®: up to 2h
---
I have a disability, can I climb trees?
Yes, we welcome people with disabilities: mental, visual, hearing and motor. Climbing in the trees can be done under certain conditions:
The person must be able to carry out the activity independently because the operators are present for all the clients.
For more information, do not hesitate to call us.
In case of impossibility to do the activity, we will refund your registration at the end of the test courses.
---
Do I need any special equipment?
We provide safety equipment (harnesses). You don't need a helmet and gloves for the activity. However, you can bring your own equipment (helmet and gloves) if you wish. Otherwise we sell gloves at the reception at a price of €3 per pair.
We advise you to wear a sporty and casual outfit. Footwear that does not hold the ankle, skirts, dresses and heels are prohibited. Hair must be tied. Piercings as well as T-shirts or tank tops revealing the belly are STRONGLY NOT RECOMMENDED.
In case of rain don't forget your waterproof coat.
---
In case of rain, is the activity doable?
Thunderstorm or heavy rain can change park opening times…
A weather check is done daily in the morning for the afternoon.
If it rains, the activity will continue and you will be able to climb in the trees because they protect you from the rain. If it rains too much, we will temporarily stop the activity, waiting for a lull, for your safety. In case of storm the park closes.
---
Is there a picnic area?
Sheltered tables are at your disposal in our park.
---
Is there anything for purchase?
We sell regional biscuits and local, fresh, non-alcoholic and bio beverages. Don't forget your water bottle because there is no drinking water point in the park.
---
Can I bring food or drinks?
Yes, this is possible and sorting bins are at your disposal in the park.
---
Does everybody pay?
Entry to the park remains free of charge for those staying on the ground and not doing the activity.
---
Are there any interesting things to see or do if I stay for a walk in the forest while waiting for my children?
Exhibitions are set up in the park. You can follow your children/friends on the courses from the ground. You can also take a walk in the forest or relax on the deckchairs available to you on the terrace and read a book quietly while sipping a cold drink.
During certain periods, you can also come and pick up the many mushrooms or chestnuts.
---
Can I come to the park with a dog/cat?
Pets are welcome at the park as long as they are on a leash.
---
Is there a place where I can leave my things?
Free lockers are available at the equipment platform to put your stuff during the activity.
---
What is the height of the games?
Enjoy 20 acrobatic courses from 1m to 17m high and a TrampÔforest® park (net courses without harnesses) up to 10m high .
---
Are there accompanying requirements?
Children between 2 and 3 years old
They must be supervised by an adult at all times. This course is designed so that the adult can accompany the child from the ground. The accompanying adult doesn't pay an admission fee. If two adults accompany the child you can each take turns looking after the child and participating in the adult activity. You will only pay for one adult entry in this case. However the security briefing will be mandatory for both adults.
Children between 4 and 6 years old
We require at least a ground supervision (free of charge). If your child climbs the "Panda" or "Koala" courses, you have to climb with them. In this case you will only pay a Kid 1 accompanying adult price (13€). For groups of 2 adults or more, only one adult gets the Kid 1 accompanying adult price. The other adults pay full adult price (23€) if they are going to climb on other courses.
Children between 7 and 9 years old
They can climb independently, but an adult has to watch them from the ground. As for the Kid 1, an adult can accompany them by paying a reduced Kid 2 accompagnying adult price (16€). You can also pay full adult price (23€) to have access to all the courses of the park
Teenagers between 10 and 13 years old
They can climb independently, but an adult has to be in the park.
Teenagers between 14 and 17 years old
The adult doesn't have to stay in the park but in that case, they must sign a parental discharge at the reception
---
How restrictive are the age categories?
If the child or teenager is between two age categories or wants to follow the upper age category, they may be able to move into it under certain conditions:
Be rather sporty/have already done the activity
Have a minimum height
Being accompanied
Visible by one of our operators on a course to be able to make the courses intended for the upper category.
Have the agreement of the person in charge.
In that case, you will have to go back to reception to pay an additional fee.
---
Is an initiation mandatory if I am used to doing it?
The safety briefing at the beginning of the activity is MANDATORY even if you have already done acrobatic courses in the trees in another park or at Forêt Adrénaline in previous years.
If you have already been to Forêt Adrénaline in the current year, we will check your knowledge of the park's instructions (legal obligation). You can tell us at the reception and at the equipment platform and we will then allow you access to the courses by only having you go on our test course before our general briefing.
---
I'm late for departure, what happens in that case?
We ask you to arrive 15 minutes before the departure time for payment and dressing… because at the time of departure, all customers are equipped and the briefing begins.
If you arrive late we will do our best but it is possible that, depending on the attendance, we we may have to move you to the next departure (10 minutes minimum waiting). There is also a risk that you may not be able to participate in this activity that day if all departures are complete or if this is the last departure of the day. On the other hand, your reservation is made without advance payment, we are in a relationship of trust with our customers but we cannot keep and guarantee your reservation beyond 15 minutes late. For your comfort and the respect of other customers, thank you for being on time or early to enjoy the pleasant surroundings.
---
What happens if my child doesn't meet the height requirement?
If the child wishes to take a course in his category but does not have the required size, he may be able to access it on one condition: ask the permission of one of the operators on site.
We recommend that they be accompanied in height by a person of the right size so that this one helps them to progress on the course.
---
Am I really safe in your acrobatic park? What security system do you have in your park?
A video briefing + an initiation supervised by a qualified operator will be given to you.
In our park we operate with the continuous lifeline system on all courses. This allows you to be attached from the beginning of the course to the end and to practice the activity in complete safety. Unlike the double carabiner system, you have no way of unhooking yourself without the intervention of an operator.
A forest expert and a game control expert check the site every year and we are audited regularly by the DDCS.
Finally, the Forêt Adrénaline company employs and trains state-of-the-art builders (we build tree climbing and net courses in France and abroad).
---
What is the maximum weight for tree climbing?
We rely on a maximum weight of 110kg, the morphology of the person as well as their physical fitness (regular sports activity)
---
What are your prices?
SEE THE PRICES:
---
We are a company and would like to privatize all or part of the park, is that possible?
For companies or a group of more than 15 people, please make your booking request on the contact form by clicking on the "contact us" button on our website foretadrenaline.com or by calling us.
---
What are the refund conditions?
To have a refund, you must contact the park by email or phone or directly at the reception desk.
Any person who, after the safety instructions have been explained, does not feel physically or morally capable of carrying out the operations required for an autonomous progress on, must give up the activity. The same applies to any person who does not pass the practical evaluation of the initiation. Therefore, there is a refund only for these two conditions.
---
What are the complaint procedures?
Any complaint must be addressed to the Forêt Adrénaline or Corsaire Aventure parks customer service :
At the reception desk or
By email at carnac@foretadrenaline.com / rennes@foretadrenaline.com / corsaire-aventure@foretadrenaline.com or
By phone : +33 9 62 02 42 99 (Carnac) / +33 6 31 05 57 80 (Rennes) / +33 7 81 40 78 11 (Corsaire).
After having referred the matter to the customer relations department and in the absence of a satisfactory response within 60 days, the customer may refer the matter to the Tourism and Travel Mediator, whose contact details and procedures for referral are available on its website: mtv.travel
---
Where is the park?
---