The Corsaire Aventure tree climbing park, an ideal place between land and sea!
Our Corsaire Aventure park is located in Fort Saint-Père or Fort Châteauneuf. It is located on the commune of Saint-Père-Marc-En-Poulet, 9 km south of Saint-Malo, in Brittany. It is easily accessible by multiple modes of transportation.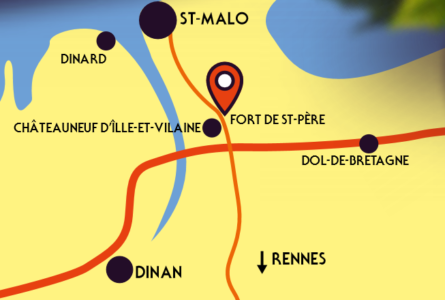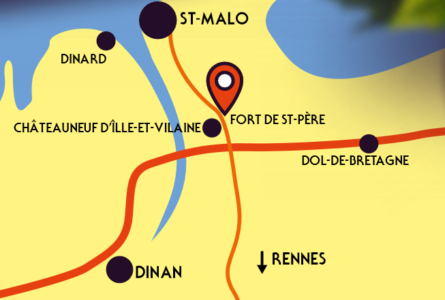 Corsaire Aventure
Fort de Saint-Père
35430 – SAINT-PERE-MARC-EN-POULET
Lat. : 48.56
Long. : -1.92
How to get here?
By car
Coming from:
St Malo: Take the D137 provincial road for 9km towards Châteauneuf d'Ille et Vilaine.
Rennes: Take the ring road north to St-Malo exit then continue on the D137 for 55km.
Saint-Brieuc: Take E401/E50/N12 for 28 km then take N176/E401 towards Les Bois de Boudan/Dinan/Saint Malo/Caen/Jugon les Lacs.
Saint-Lô: Take N174 for 70 km then take A84 towards N175 at Poilley. Keep right to continue on N175, follow signs for Saint-Brieuc / Saint-Malo / Le-Mont-Saint-Michel / Pontorson.
By bus
Come to the park by bus with the company MOBIBREIZH.BZH.
Take the bus number 10 from "Aquarium de Saint-Malo" to "Chateauneuf d'ille et vilaine".
And follow the direction "Corsaire Aventure".
By bike
The park is accessible by bike, biking trails around the fort of Saint-Père are available most of the way. Do not forget to leave a few minutes earlier so you do not miss the start time! Are you ready? Let's go!
The treasures of Saint-Malo
Are your vacations up ahead? Looking forward to a weekend break? Or simply a day to decompress? Come and discover the horizons and treasures of Saint-Malo!
Give yourself some fun, pleasure and adventure by visiting our Corsaire Aventure park in Saint-Père. Stop and visit us when you come and visit the magnificent côte d'Emeraude or after a walk in the streets of Saint-Malo.
Brittany, rich in its cultural language, its picturesque villages, its chapels and castles but also its mysterious fortresses…