The Corsaire Aventure Park is open to everyone!
Whether you want to climb trees or accompany family members or friends, the site is accessible to all.

To guarantee you an activity without stress and with a more available team, we advise you:

Avoid high traffic slots:
– The summer: avoid departures in the afternoon. The ideal being the mornings where the courses are less frequented.
– outside of the summer: prefer the slots at the very beginning or at the end of the afternoon.
Contact us in advance to better organize your visit via the contact tab.
Inform us as soon as you arrive so that we can communicate with each other IN ORDER TO better help you depending on your situation.
Parking places are reserved for you nearby the entrance of the Park
Be careful: Toilets are not accessible to visitors in wheelchairs.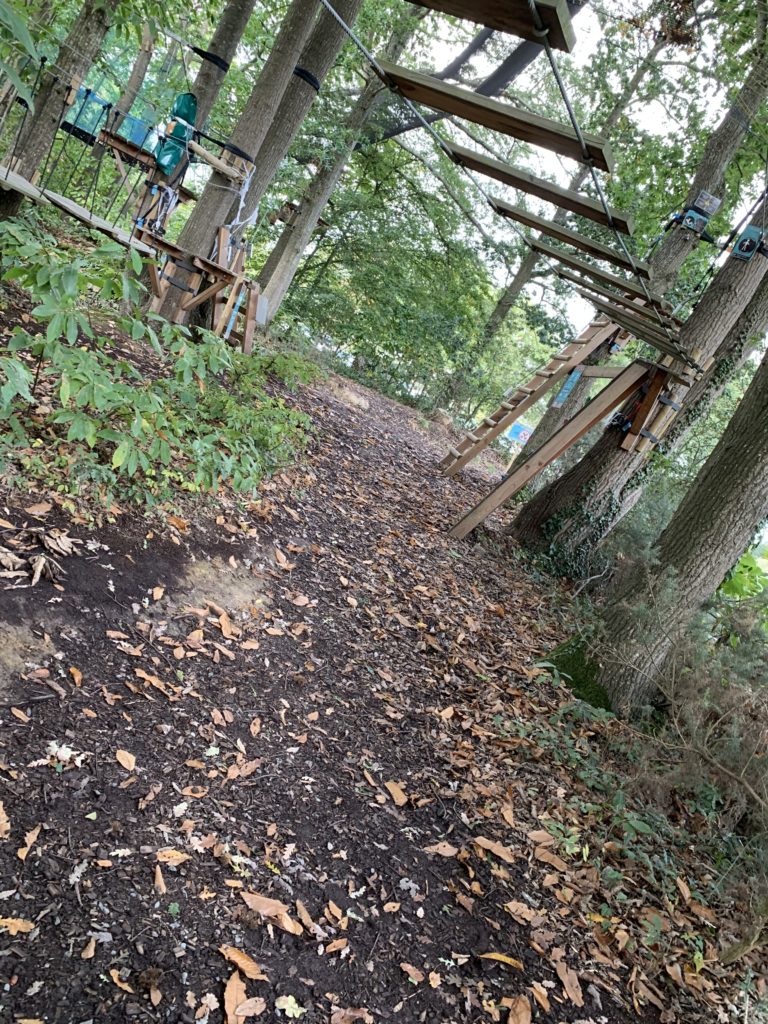 To better prepare your visit to our site, you will find useful information:
Persons with reduced mobility
Our park is available to persons of reduced mobility. However, situated in forest, the access by wheelchair users, or with other mobility supports (walking stick, walking aid, …) can be more complicated.
Indeed, despite all the efforts we make to ensure a quality welcome, roots, cloves of chestnuts, leaves and pebbles can sometimes slow down the progress on the PATH or make them slippery in the rain.
That's why we recommend you to be accompanied and careful on the path. Don't hesitate to ask us which path is the better to follow your family members or friends.
People who are deaf or hard of hearing
We welcome you with pleasure to make you discover or rediscover the joys of tree climbing.
The video brief is subtitled, so you can follow the explanations completely. Our team is at your disposal to welcome you and guide you throughout the activity.
People with a physical or mental handicap
Each person being the best judge of their physical skills, there is no prohibition to practice the activity on our park.
Courses evolve increasingly in terms of difficulty.

Our animators will guide you on your first course that they deem appropriate to your level and your desires after the training course; then we will remain available to advise you throughout the session to introduce you to the different courses and their difficulties. The goal being that our customers enjoy the practice of our activity, and do not complete the activity on a failure as a result of a wrong course choice.
We advise you to be accompanied on the courses to receive support if needed, our animators may be required to accompany and help other customers.